Whether it's consumables, heavy automobiles, or fashion, consumers are buying everything online. Even lab grown diamonds!
Gone are the days when customers traveled to their favorite jewelry store, spent hours trying out gems and jewels, and bought their diamonds. Today, you can buy the best lab created diamonds from the comfort of your home, or even from your car while you're on the road.
However safe and easy it is to buy lab made diamonds online, some consumers still hesitate to make purchases online. So, is experiencing diamonds physically before purchasing them still a huge part? In this blog, we explore this question. Read on!
Lab grown diamond industry: status quo
With numerous online marketplaces for lab grown diamonds for sale, individual brand ecommerce websites, and aggregator sites, buying lab diamonds is now as easy as pie.
Valued at about $11 billion in 2022, the laboratory grown diamond industry is said to cross $15 billion by 2027.
Nearly 10% of the diamond market share is occupied by lab diamonds. And the figure is growing year after year.
What is more, lab diamonds are available and bought from online ecommerce stores as well as brick and mortar retail stores. Lab diamond retailers and wholesalers frequent trade shows and exhibitions to keep abreast with all that's new in the industry.
Consumers all across the world are purchasing lab diamonds—with China being the largest market, followed by India, the USA, and other countries.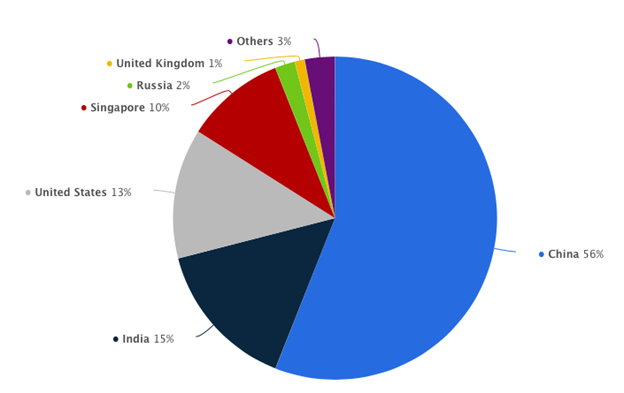 New generations a driving force of the online lab grown diamond industry
The increased interest of new generations—millennials and Gen Z—in buying ethical and sustainable alternatives of mined diamonds, is one of the main factors contributing to the fierce growth of lab made diamonds.
And because these new generations are internet savvy, the trend of buying lab diamonds online is catching up. But lab diamond manufacturers and retailers aren't leaving any stone unturned to meet customers' preferences.
Diamond manufacturers and retailers meet consumers wherever they are: online and offline
Whether it's jewelry shows, diamond trade shows, and fashion events, lab created diamonds are present physically at these events. Why? Because many consumers, especially retailers and wholesalers, prefer to see and touch the diamonds physically.
Physical exhibitions of diamonds also offer buyers and sellers an opportunity to interact in person and get into the details of business, quality, and opportunities. Buyers and sellers end up transacting for the best lab grown diamonds at physical events
Advanced viewing features on diamond ecommerce platforms
Ecommerce websites of diamond manufacturers and wholesalers have advanced features that enable customers to see and feel the performance of lab diamonds as good as in the real world.
Customers can get a 360 degree view of lab diamonds under different kinds of lights and intensities, so buyers can view the performance of the diamond as good as it would be in real life. Platforms such as Cutwise make it possible for diamond brands to effectively showcase their diamonds along with the best optical performance scores
A change in perspective
Mined diamonds take thousands and millions of years to form under the surface of the earth. The process of finding and excavating natural diamonds is long, dangerous, and fraught with humanitarian issues.
For most consumers, diamonds are an extremely special product and purchased only on special occasions. The universal perception was that diamonds are extremely expensive and not affordable easily.
But that perspective has seen a shift. Consumers are now aware of lab grown diamonds that are as real as mined diamonds. Being cheaper, they are accessible to most consumers. Moreover, they are grown in laboratories and hence carry complete transparency.
Every lab created diamond comes with a certificate of authenticity and detailed report of its origin, optical performance, an assessment of the 4Cs of diamonds (cut, clarity, carat and color), among other details. This makes it easy for customers to buy their diamonds with confidence.
Sum it up
Lab grown diamonds are here to stay and they're conquering the global diamond markets. Diamond manufacturers and distributors are leaving no stone unturned to meet their customers wherever they are. If customers prefer physically experiencing their gemstones before purchasing, diamond brands make it happen.
Conversely, if they choose to buy them online, diamond merchants ensure customers can view the optical performance of the lab made diamonds via advanced technological tools. It's safe to say the future of lab diamonds is all bright and shiny.