Are you looking to purchase a 2 carat diamond ring for an engagement or a wedding? If yes, this short guide is for you.
When it comes to diamonds, one of the things that customers want, apart from sparkle, is that it must look big. In most cases, bigger than it really is.
And guess what, it's possible to make a diamond look big. We'll come to it in this blog in a bit, but let's get started by understanding what a 2 carat lab grown diamond is and how to choose the best setting for it
What is a 2 carat lab diamond?
People often refer to carat as the size of a diamond, but in reality, carat is its weight. It's easier to produce 2 carat lab grown diamonds than finding mined diamonds of that weight. How huge a lab made diamond appears will depend on its shape and cut quality. For instance, even when two diamonds weigh the same carat, those with longer shapes, like pear or oval, may appear larger.
Moreover, similar to the way a well-cut diamond will have the ideal proportions to maximize light return, a diamond that's cut poorly will appear smaller and less brilliant.
Refer to this chart by the International Gem Society to understand the carat and size of diamonds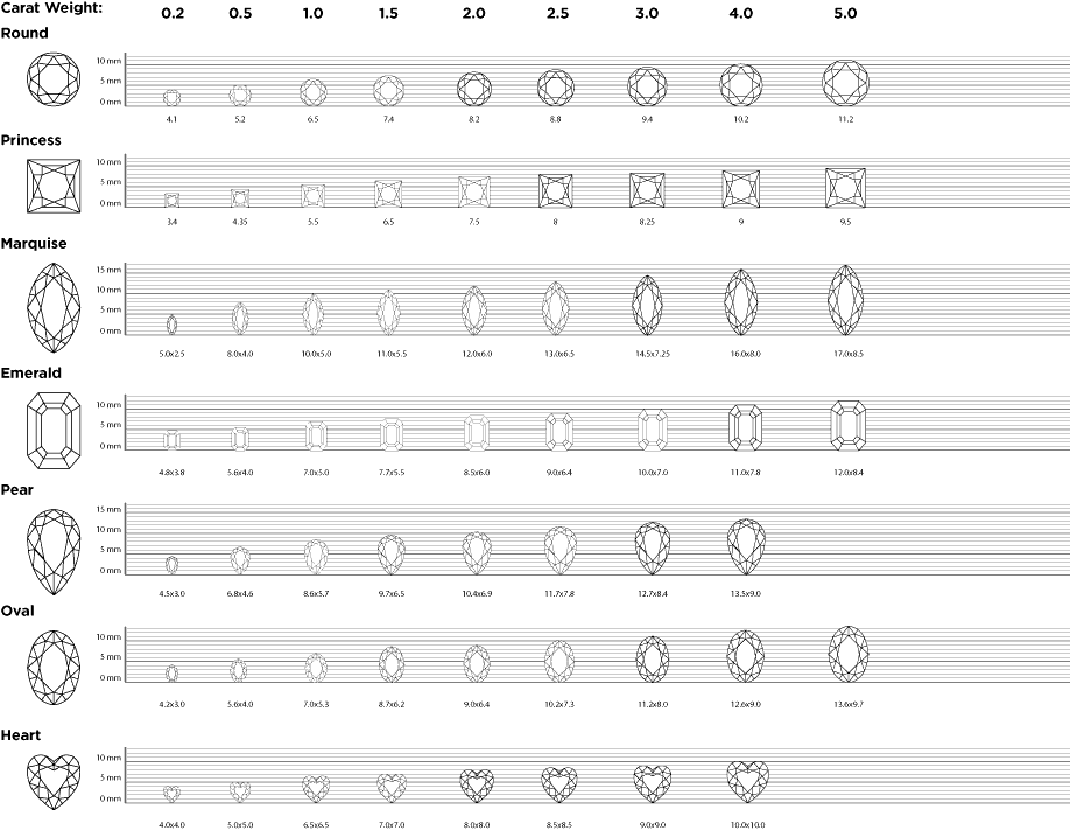 How to choose the best 2 carat lab grown diamond?
Lab created diamonds of all sizes and weight are measured by the same method using the 4Cs. Let's understand what factors you must focus on when choosing 2 carat lab diamonds based on the 4Cs.
Color
Of the 4Cs, color is arguably the most arbitrary. Lab diamond colors are graded in the range of d to K. For a 2 carat diamond, any grade in this range is suitable. J grade and below diamonds have a warm tint, but they can be set in yellow or rose gold to make them appear whiter. Depending on the budget, one can choose a color between the range of D and H for brilliance and sparkle.
Clarity
Another factor to consider when choosing a two carat lab grown diamond is its clarity. A VS2 or higher clarity grade is advisable for a 2 carat diamond. A diamond with this grade will be clean to the naked eye and won't have visible inclusions.
Cut
When it comes to how well the 2 carat man made diamond performs in the light and how attractive it is, the cut will matter most. Diamond appearance can be hugely affected by percentages, proportion, and angles, making cut quality evaluation a challenging task. You shouldn't be compromising on diamond quality, and hence, choose the best 2 carat diamond with good cut quality within your budget.
Size of the setting
Lab diamonds do not have to be the size of the jewelry setting. An expert jeweler can alter a typical setting to fit different diamond sizes. For example, a round man made diamond can be placed in a conventional setting.
Jewelry makers have to take into account many factors for various shapes. Diamonds less than one carat can fall within 0.1 mm of the setting size. Over 1 carat, a 0.2 mm variation is acceptable.
2 carat lab grown diamond price
If you're on a strict budget, the price would come first, then the appearance and quality, and last should be the carat weight. Never buy a diamond solely on the carat weight. If you buy a diamond between 1.7 and 2 carats, it will still give you a bang for the buck.
Ready to buy your 2 carat lab grown diamond ring?
The 4Cs, price, and the jewelry setting are the most important factors to consider when buying a 2 carat diamond ring. Apart from that, your personal preference will be a big factor in your purchase decision.