When customers buy diamonds, they are often concerned about the authenticity factor. Is the diamond quality good? Are they buying a proper diamond that can be trusted? And other such questions.
And that is why, no matter the type of diamonds—mined or lab grown diamonds—it's critical to buy a gemstone with a diamond certificate.
What is a diamond certificate?
A diamond certificate is a report that includes diamond grading details. It mentions the assessment results of all aspects of the diamonds, including the 4Cs, brightness, performance, etc. Organizations such as the GIA and IGI offer diamond certificates.
There's another organization, AGS, that offers diamond reports and other services. Recently, GIA and AGS merged their efforts to offer products and services related to diamonds. Apart from the GIA diamond certificate, the organization now also offers the AGS certificate.
What are GIA and AGS?
The Gemological Institute of America (GIA) is a non-profit organization focused on research and education about diamonds and gemstones jewelry. The GIA is not involved in selling mined or lab grown diamonds. Nor does the organization represent those who sell diamonds. It is an independent organization that helps educate, conduct research, sets grading standards, and grades diamonds.
The American Gem Society (AGS) is an association of retail jewelers, suppliers, and other industry members. It was founded in 1934.
Both the labs, GIA and AGS, merged in 2022. AGS closed its laboratory and merged with GIA. The merger combined the efforts of both labs to develop new services and products to support the diamond industry.
The AGS Ideal Report is available from GIA as a digital supplement to GIA diamond reports for D to Z mined and lab created diamonds.
The GIA-AGS Light Performance report
GIA is now offering the AGS Ideal Report—a supplement to GIA diamond grading reports. It is a digital supplement. The GIA certificate is available for lab created diamonds as well.
The report uses the AGS Light Performance system, which measures the effectiveness of a diamond to handle light.
How does the system work? The method uses a 3D scan of the diamonds and virtual rays of light are traced through the kaleidoscope of mirrors and windows created by the facets.
Available for D to Z color mined and lab grown diamonds, the system can be applied to round brilliant cut diamonds, oval cut diamonds, emerald, princess, and fancy round brilliant cut diamonds.
Here's a sample AGS Ideal Report: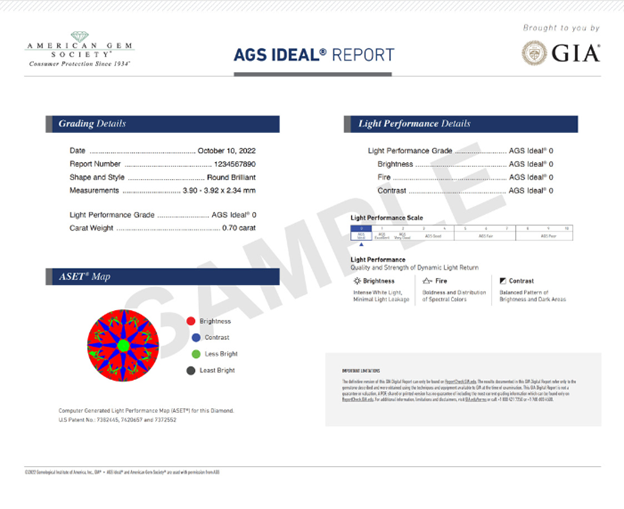 Why do you need a diamond grading report?
Whether you buy mined diamonds or lab created diamonds, it's an important investment. And like most large investments, such as buying a house or a vehicle, you need to have documents that provide proper information about your purchase. A diamond grading report is a document that helps you determine the value of your diamonds.
The diamond report provides quality assessment of the 4Cs—cut, clarity, color, and carat. All these details not only help to understand diamonds better, but also to determine its price and compare it with other diamonds.
Moreover, in a situation where you want to sell your diamond, the diamond report acts as a proof of authenticity and transparency. The diamond report contains all important information such as inclusions, fluorescence, performance, proportions, etc. Besides, all diamonds are different. The GIA diamond certification includes details of all the characteristics that make diamonds unique.
Diamonds with GIA certificates are more recognized and carry greater credibility. And hence, the GIA reports are more sought after. Most recognized diamond brands across the world rely on GIA for certifications.
Final thoughts
GIA and AGS were both founded by the same people in the 1930s. Both organizations shared a common mission, that of researching and educating, as well as providing standard grading.
Recently, in 2022, both organizations joined hands to strengthen their offerings, products, and services in the diamond industry. The GIA now provides the AGS diamond performance report for mined and lab grown diamonds, making it earlier for customers to buy diamonds with confidence.