Buying diamonds is easier said than done. Whether they're lab grown diamonds or mined, the decision about what to buy is far from easy.
But with AI technologies and capabilities taking over all the industries, a lot of consumers are wondering whether it can make their diamond purchase easier. Currently, ChatGPT is the talk of the town. But can it really help you choose or buy diamonds? Has it already started making its mark on the diamond industry? Let's find out!
ChatGPT: status quo
Some experts in the diamond industry are of the opinion that ChatGPT could change every business, including the mined and lab diamonds industry.
Wondering how ChatGPT works? ChatGPT is an open artificial intelligence tool, which generates answers to prompts and questions within seconds. For example, we asked ChatGPT about lab grown diamonds. Here's its response.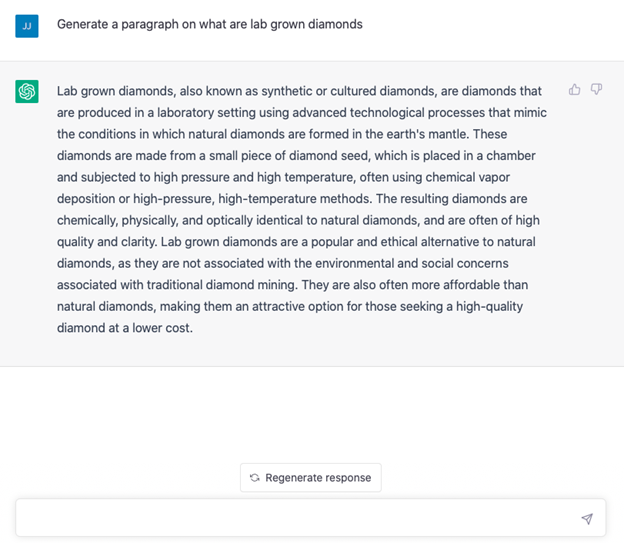 Similarly, one can ask more detailed questions about diamonds that can help make purchase decisions easier. For example, how many facets does a diamond have or what diamond color is considered better.
There are many AI tools that can help assess the quality of diamonds. From diamond clarity to factors one should look for in a diamond certificate, these tools can help you answer many questions.
And customers are considering using these AI tools such as ChatGPT to help them shop better. But is that the right choice?
How good is ChatGPT to help select diamonds?
ChatGPT can answer basic questions about mined diamonds, man made diamonds, and share thorough information, but the tool has limits. It is not able to share insights and information that a human diamond expert would be able to share. It does not have the ability to contextualize the information.
Moreover, to get the best results from ChatGPT, one has to know how to write the best prompt that will generate the most helpful answers.
Besides, the tool is afterall machine-based and cannot think like a human being. And so, one always has doubts about its accuracy, especially when it comes to lab diamonds.
ChatGPT can easily help you find and articulate information on what to look for in a diamond. It can even help you answer questions around what you should look for in a diamond certification.
But the tool might not be able to help you in understanding what you should avoid when buying diamonds. Or, for that matter, it won't be able to give you information about a specific man made diamond originating from a specific laboratory.
To assess the quality of a diamond from a specific lab, you'll have to rely on diamond grading organizations, diamond certification, and diamond experts who'll be able to assess the gemstones with human intelligence and expertise.
What are the drawbacks of relying on ChatGPT for selecting diamonds?
While there are many advantages of ChatGPT, such as speed, convenience, ease, and ready answers, it's best to be cautious and not to completely depend on this open AI tool.
ChatGPT can be wrong. For example, if you send an incorrect prompt, you might get an answer that doesn't really help you or lacks information.
Afterall, the tool is based on technology and is not human. You might end up receiving the wrong answer.
Moreover, if you ask a complicated prompt to ChatGPT, it's sure to find itself lost. For example, a prompt such as, "What is the cut quality of a diamond from XYZ laboratory?", this tool won't be able to help you. Or, say you want to know where you can buy lab grown diamonds for sale, it will give generic answers and not specific.
Conclusion: should you rely on ChatGPT to make diamond purchase decisions?
The answer is no, not completely. ChatGPT is not yet efficient to help you select your diamonds. Whether you buy mined diamonds or lab diamonds, ChatGPT can only share limited information with you.
In short, ChatGPT can help you understand what the 4Cs of diamonds are, but cannot analyze the 4Cs of a specific diamond you're interested in. It can point out differences between diamond colors, diamond clarity, cut, etc. but cannot help you assess these factors for diamonds that you want to purchase. It can only share knowledge with you.
Hence, the only thing it can do is make the diamond purchasing process easier and less tedious. But it cannot touch and feel a diamond like a human expert can.