Wouldn't it be perfect if selecting your engagement or wedding ring was a breeze? Of course! But the reality is far from it.
Your big day is coming soon and you want the best fancy diamond ring for your loved one. But you're confused with the many diamond ring shapes you find on diamond jewelry sites.
One of the best ways to narrow down your search for engagement rings is to look for eternity rings. Further, there are some best diamond shapes in eternity rings that you can't go wrong with.
In this blog, we make it easy for you to select the best diamond eternity rings. Read all about it.
What is an eternity ring?
An eternity ring or eternity band, as it is also known, is a fancy diamond ring. It includes fancy cut diamonds studded all over on the ring, like a string or a garland of flowers. Eternity rings don't include round diamonds, rather other fancy shapes.
Available in two types—full or half—both these types have a row of diamonds. As the name suggests, a full eternity ring includes diamonds all over the band. Conversely, a half eternity band has diamonds only on half the ring. The string of diamonds is a symbol of eternal love. For example, you can find a pear shaped engagement ring, cushion cut engagement ring, etc.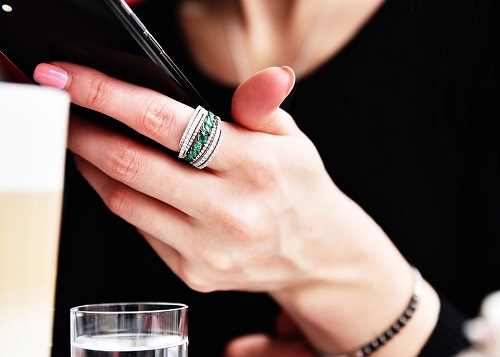 For what occasions are eternity rings most suited?
Eternity rings have a special meaning of eternal love and hence, they are given to mark special occasions. For example, anniversary, engagement, wedding, birthdays, graduation, etc. Gifting an eternity band makes every occasion special.
Full or half: which eternity ring is better?
To understand which eternity ring is better, you'll have to know the difference between the two. Full eternity bands have diamonds that go all around the ring, while in half eternity rings, only half the ring is studded with diamonds. The other half is plain.
To further decide which one is better for you, you'll have to consider the following factors:
Comfort: The full eternity ring can seem uncomfortable because it has diamonds all around the band. For some people it might be uncomfortable as it might hurt.
Design: Eternity rings are available in many diamond shapes such as radiant cut diamond, princess, oval, asscher, cushion cut engagement ring, emerald, etc. You should choose a full or half eternity band design based on the diamond shapes because not all shapes go well in full rings.
Budget: One of the most important factors when buying diamonds is the price. But the price of the eternity band will depend on the price of the diamond, which in turn, depends on the diamond shapes and size of the diamonds. Eternity bands made of lab grown fancy diamonds are much more affordable than mined diamonds.
Personal preference: Last but not the least personal preference plays a big role in the selection of a diamond ring. Individuals have different tastes and preferences for design. For example, if a person is selecting an eternity band for engagement, they would most probably have a sense of what the other person would like and accordingly select a design.
Eternity ring: possible drawbacks
While eternity diamond bands look good and are a talk of the town, they might have some drawbacks.
For example, one of the biggest cons of eternity rings is that it is extremely difficult to resize it. Because the ring is studded with diamonds all over, making changes to it gets difficult.
Another negative aspect of an eternity ring is that it could hurt the skin and the fingers because it has diamonds all around. Depending on the shape and finish of the diamonds as well as on the jewelry frame, you might face some difficulty in wearing it.
Over to you — ready to choose your eternity band?
By now, eternity diamond rings are most probably your new favorite and must-have. And rightly so! The rings look stunning, trendy, and that's why everyone wants it for their special occasions. Whether it's an anniversary, a wedding, an engagement, or a birthday gift, this ring goes well.
Moreover, it pairs well with wedding rings and engagement rings on the fingers. So if you're looking for a gift for your loved ones or for yourself, you're in luck with the eternity band.