When buying a diamond, you can easily determine the quality and grading of its cut, clarity, diamond carat, diamond shape, and color. But when it comes to the price of a diamond, whether lab diamond or mined, there's always doubt.
Is it more or less than its fair value? How did the retailer or seller calculate the price? And other such questions could leave you thinking. And so, in this blog, we help you out a bit—you'll learn how to determine diamond prices.
How to calculate diamond price?
The easiest way, but not the most accurate, is with the diamond calculators you will find online. These are simple calculators where you have to input the basic information about your diamond, and the tool will give you a price. However, pricing diamonds is not so simple, and this method is highly unreliable.
So, what's a better way to ascertain diamond prices?
The 4Cs of diamonds
When pricing mined and lab diamonds, the 4Cs are the most important factors that come into consideration.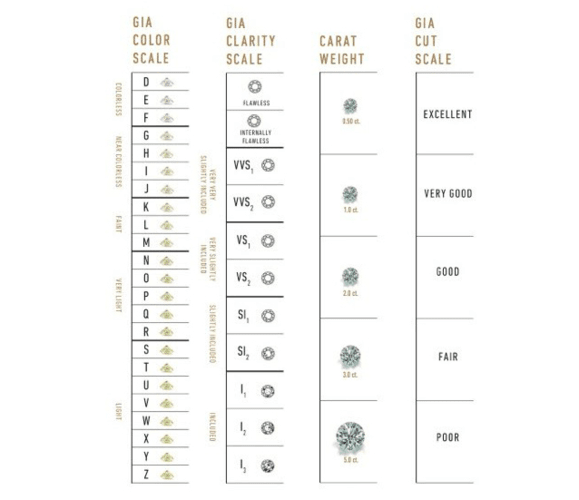 Cut
A diamond cut is frequently mistaken for the diamond's shape. To illustrate, diamonds can take on various shapes, including round, oval, cushion, radiant, princess, emerald, and more. The term "cut" in the context of diamonds pertains to the precision and skill with which a rough diamond is transformed from its original state.

The quality of a diamond's cut is evaluated on a scale that ranges from "excellent cut" to "very good cut," "good cut," "fair cut," and finally, "poor cut." The diamond's cut significantly influences the surface finish it exhibits.
Clarity
The clarity of diamonds is categorized on a scale that encompasses various levels, including "flawless," "very, very slightly included (VVS1 and VVS2)," "very slightly included (VS1 and VS2)," "slightly included," and "included."
Inclusions within diamonds can manifest as cracks, scratches, or minor flaws. While some inclusions may remain imperceptible to the unaided eye, others may be readily observable.

It is important to note that these diamond inclusions can significantly impact the diamond's value. Diamonds with severe inclusions are more susceptible to damage and may experience a reduction in both their original clarity and overall value over time. Conversely, flawless diamonds are highly priced.
Carat
There is a common misconception among many people regarding the term "carat" and its relationship to the size of a diamond. However, it's important to clarify that a diamond's carat refers to its weight, not its physical dimensions. To put this in perspective, one carat is equivalent to 0.2 grams or 200 milligrams, which is one-fifth of a gram. In the world of diamonds, the price typically increases as the carat weight of the diamond grows larger. However, a 1-carat diamond of high quality could be much more valuable compared to a 2-carat poor-quality diamond.
Color
Although naturally occurring colored diamonds are relatively rare, the production of colored diamonds in laboratories has become significantly more accessible. Whether they are created through methods like chemical vapor deposition (CVD) or high-pressure high-temperature (HTHP) processes, diamond color greatly influences its classification.

Diamond colors are assessed on a scale ranging from D to Z, with D representing the most prestigious grade. Consequently, the majority of transparent diamonds fall into the Z category. Diamonds that exhibit a faint yellowish tinge are generally considered less valuable compared to their completely transparent counterparts.
Factors beyond diamond characteristics that affect pricing
Seller's policies and warranties: Is the diamond retailer or wholesaler offering buy-back or trade-up policies? Do they provide value-added services such as repairs, resizing, or warranty? These services entail time and expenses for businesses and could increase the price of diamonds.

Geographical location: Different countries and states have varying laws and sales taxes applicable to consumer goods. These usually impact diamond prices.

Brand influence: Diamond prices can vary depending on the brand or business. A renowned and up-scale brand would be more expensive compared to a small store.
Ready to purchase your diamonds at the best price?
If you're looking for a one-size-fits-all pricing method or formula, you won't find any. Diamond prices vary based on different factors. Now you know the various factors that influence diamond pricing.

You also know why the price of a 1-carat diamond can vary based on its 4Cs. So, the next time you set out to purchase a lab diamond or a mined diamond online, you will know how to determine the diamond price based on various factors. Happy diamond shopping!